2012 GRAND CHAMPIONS!
The Performance that Pushed ETC, OVER the EDGE OF GLORY HERE!
*2/25:  St. Clairsville Showcase of Sound
Lets take a moment to talk about the weekend. – A recap from Chris Moorhead

Preliminary performance:  Olivia Wilde started us off with a unreal version of her solo and the show raised to a new level. Personally, I was breathless after they performed. I almost forgot we had to break down the set afterward.
To start off the Preliminary awards, Lauren Nervo won Best ETC Performer. Anyone that knows this young lady knows it was long overdue for her. Brianna Marie Bell won Best Solo Within a Show - again well deserved. At this point the "Land-side" began.
Best Show Concept – ETC
Best Female SOLO-  ETC (Brianna-Marie Bell)
Best Costume – ETC
ETC BEST COMBO – ETC   (6 VS A 20 PIECE COMBO)
BEST CHOREOGRAPHY ETC
BEST VOCAL SOUND – ETC
Best Sportsmanship ETC
Grand Champion Group A – ETC
Other groups were saying "ETC" every time the award was about to be announced.
Our finals performance wouldn't have been fun if we didn't have to overcome some problems. Everything started out great.  Then, at the end of Perfectly Perfect, something happened between the combo and the singers, and the kids didn't end together. For a brief moment — and I mean a fraction of a second — there was a "What the heck happened??" look on most of the kids' faces. Then, one of this week's MVPs came on stage. Brianna made her award winning preliminary solo sound average. She was amazing. The rest of the Ballad brought tears to everyone's eyes (including some hard core show choir people). Then Taylor Leigh-Hahn Johns came out brought the house down. The show exploded during the girls number, and any earlier mistake disappeared.
Then there was the riser front — you know we just can't have one problem to fix! A riser front fell right in the middle of a dance number and was trying to create havoc. Finally, our second MVP Megan Calderone got a hold of the piece and threw it to a crew member without missing a beat. It just disappeared. Nothing would stop these kids. The crew worked a new smoke machine perfectly and the combo rocked the house. 
 Last was the final awards ceremony. Usually, when the first runner up is named, they get drowned out by the GC group cheering. Not ETC.  There was an "OH MY GOD" moment of silence, and then the house exploded. The All-Americans ran on stage, and the Main Street Singers ran up after them. It was moment never to be forgotten, and these kids deserve it.  It's been a long time since the Big Trophy came back to the ETC studio. It took every person on that stage plus Tara, Andy ,Bob, Brett and –most of all — Carolyn to pull this off. It was truly a night to remember, and one I will never forget.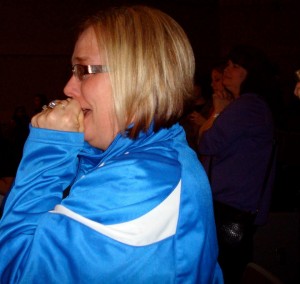 THE MAIN STREET SWINGERS SWEEP AWARDS AT POCA! 
Grand Champions 2012
ST CLARESVILLE PERFORMANCE CLICK HERE