Come and be a part of ETC!
If you love singing and dancing, or play an instrument, please consider auditioning for ETC!
All are welcome to audition for our organization. As long as the member is able to get transportation to rehearsal each week then you can audition for ETC.
If you are a part of a competitive show choir in your school then you will not be eligible to audition for ETC.
Information on auditions
This year we will be trying out something new for auditions. This year they will be by online submission!
Once we get the submission timeline and the platform finalized we will be posting the sign up links. You must sign up for an audition so we have information on all that plan to audition.
Auditions will be two part for High School, and one part for Middle School.
The first part for the high school audition will be singing a prepared song. This should show off your best singing and vocal range. You will need to two minutes of the song, and it must have a track or accompaniment. NO A CAPELLA AUDITIONS WILL BE ACCEPTED.
The second part of the high school audition will be a small dance audition. We will send out a link to the dance break down once the online submission timeline begins. You will have to record yourself performing the routine and send it in.
Each submission video should begin with you stating your name, grade, and school that you will be attending in the fall. A student must submit both a vocal and dance audition to be considered for the organization.
Middle school auditions will just consist of the vocal audition submission.
Once the submission timeline ends, we will send e-mails within the next week with decisions.
High School Audition Link
TBA
Main Street Vocal Audition Link
TBA
For more information e-mail Robert.Sabree@etcheidsschoolofmusicalarts.com.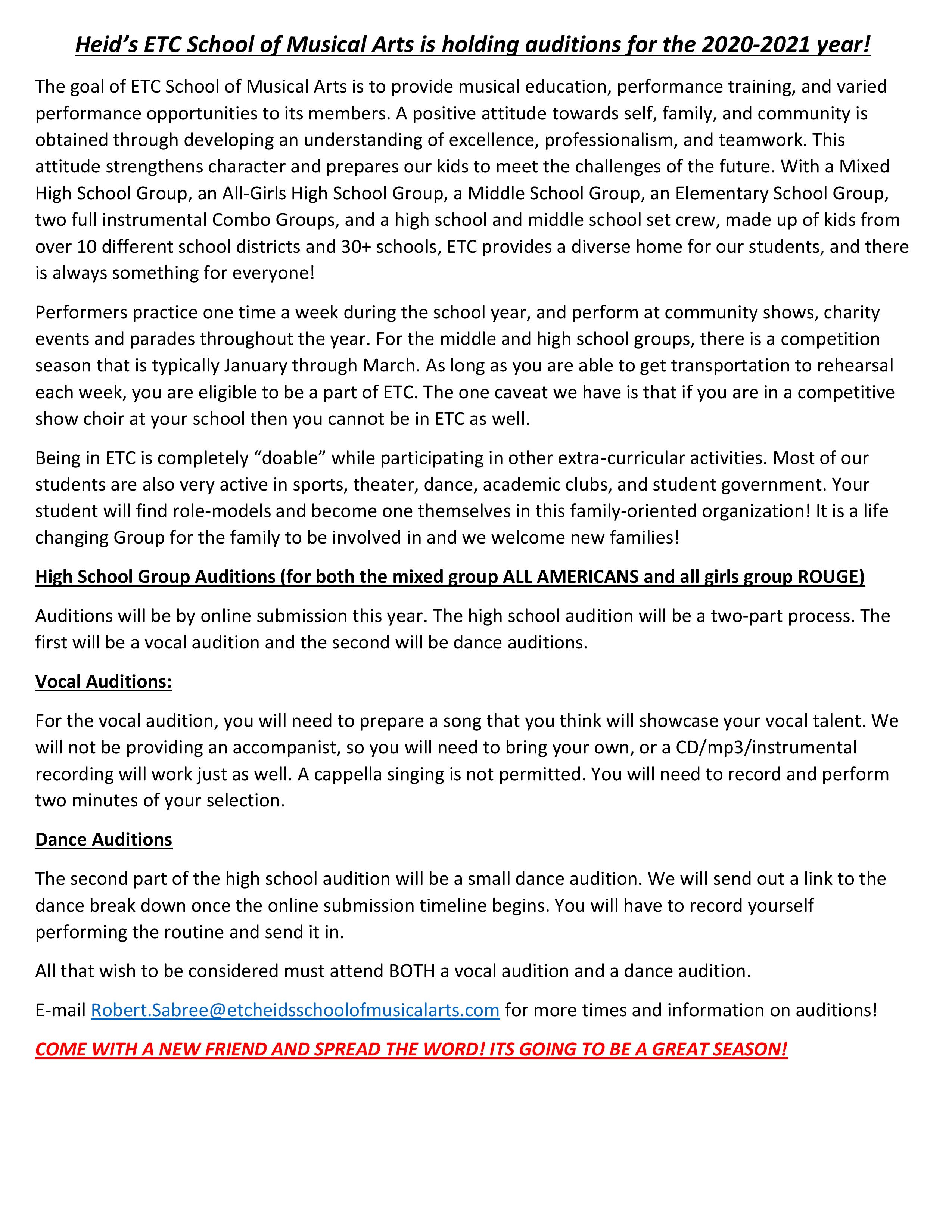 Thank you and we hope to see you soon!
Save
Save
Save
Save
Save
Save
Save
Save
Save
Save
Save
Save
Save
Save
Save
Save
Save
Save
Save
Save
Save
Save
Save
Save
Save
Save